There's no doubt about it, Geofoam is a great construction product, but it's far more than that. Sure, it's used for stabilizing shifting earth, supporting airport runways, train railbeds, even assisting in rooftop garden projects.
But there's so much more than that. Geofoam is a product often used in interior design projects like the dental office (yes, you read that correctly) décor in the picture above.
Themed dental offices are becoming more and more popular. This one can be found in Sicklerville, NJ. Here are some additional photos that help round out this section of the dental practice.
Dental offices are something that the owner, Steve Morrone, takes rather seriously. On his site, you can see numerous examples of dental offices spread across the eastern part of the U.S.
When it comes to inspiration and design, Morrone says "Almost everything we do, we have never done before". Most of his clients will share an idea and Morrone goes to the drawing board to come up with new original creations to transform offices, lobbies and amusement rides, creating the ultimate magical escape.
The news of the lightweight, easy-to-use nature of EPS made its way into the world of parade floats and accessories. Being a native to the Philadelphia tradition of the New Year's Mummers Day Parade, this is a perfect match for Morrone's talents. No word yet on this year's theme. 'Mum' is the word on that one. However, Morrone did promise to keep us updated on what Imagine Factory has in store for new projects in the pipeline, so stay tuned! We often feature Steve's work on our social media outlets for #FunWithFoam Fridays.
They've created everything from life-size, 2o foot Humpback Whales they hang from ceilings to Joker Cars, Octopus wall hangings to corner treehouse bookcases. It's a treat to see such creativity.
Still Used for Construction
Sure, we'd be lying if we said we're no longer making Geofoam for construction projects. The overwhelming majority of our production is dedicated to fulfilling contractor requirements daily.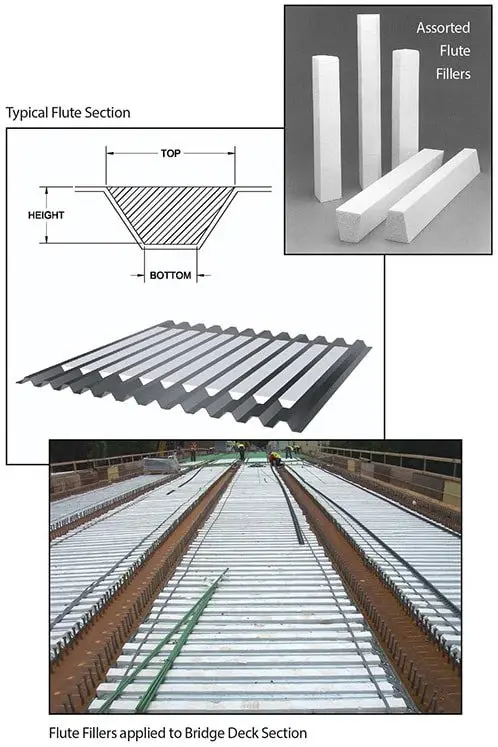 The image above is just one example of the diversity of this product.  Flute fillers made of Geofoam provide a flexible yet compacted foundation for construction purposes. In this case, flute fillers are used to fill voids in a bridge project. You may recall our other post specifically about flute fillers.
They are originally designed to stabilize shifting earth in construction projects like embankment shoring, rooftop garden substrate, railbed support, etc. It's a versatile product used by arts craftspeople as well as construction workers.
Geofoam is used across the globe, from Norway (where it all started) to the US, to as far away as China.  Embankments, retaining structures, landfill, earth stabilization, and other uses.
You might remember some of the previous projects we highlighted, like the Verrazano Bridge project, among many others.
One of the interesting things we discovered some time back is that Geofoam is also used to protect roadways from Frost Heave. From that first experiment in Norway way back in 1972, Geofoam is found just about anywhere in the world.
Geofoam will always be paramount with construction projects from roadways and bridges to tunnels and sports arenas.  However, don't discount its value to the world of the arts, as geofoam is used by craftspeople everywhere from large animals, mock-caves, Lady Liberty mockups, and even race cars.