EIFS/Stucco for homes and businesses is favored for elite efficiency and superior design flexibility
EIFS IS AN ACRONYM SHORT FOR EXTERIOR INSULATION FINISH SYSTEM
Also referred to as synthetic stucco, this finish is multi-layered, proving functional on buildings of nearly every type for upwards of three decades. The EIFS exterior insulation finish system is favored for its elite energy efficiency and wide-ranging design when juxtaposed against similar products.
EIFS stucco is comprised of three distinct layers: exterior, middle, and inner. The inner portion is comprised of an expanded polystyrene board connected to the wall through an adhesive. The middle section is comprised of a robust base coat that is water-resistant. This coat is added to the other side of the EPS board and further bolstered with fiberglass mesh to enhance its durability. The exterior portion is a textured finish coating that proves resistant to cracks. EPS for EIFS stucco systems is a 2 foot by four-foot polystyrene board with upwards of a four-foot thickness. The board is bundled with specific square footage in mind, ensuring complete customization for your property.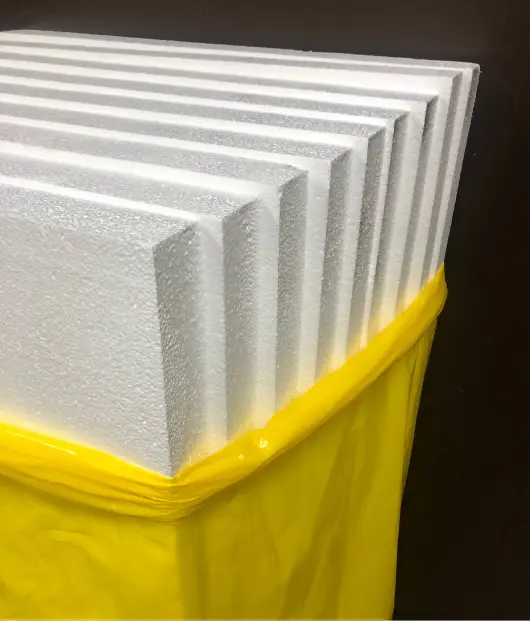 We have proudly supplied the top EIF systems ranging from Energex to Parex, Synergy, Firestone, Dryvit and beyond. Our EPS board for EIFS stucco systems is cleared after comprehensive RADCO third-party inspection. In fact, we are the sole geofoam manufacturer in all of New Jersey. Our low-cost product does not mandate staging or preloading of any type as is typically necessary with other construction applications.
Add in the fact that our geofoam exterior insulation and finish system does not pose a threat to the environment and you have all the more reason to rely on it for your building or construction project. EIFS is worry-free in all regards, affordable and durable, ensuring your home or business has truly unparalleled energy efficiency across posterity.
enhances the strength of the surface without tacking on that much more weight.
Get in touch with us today