Widely accepted and cost efficient, Geofoam is a construction insulation material used typically as a structural fill material in road construction, elevated slab applications and much more. It is lightweight and can withstand harsh weather conditions. Since its introduction, it has been widely used in many construction projects worldwide. This material has been the choice to use in stabilizing slopes, reducing lateral loads in bridge abutments as well as reducing loads for landscaping applications above landfills.
Understanding EPS Geofoam for the Commercial Industry
EPS Geofoam is an energy saving and versatile insulation available in the market with a minimal ecological footprint. It has the strength and flexibility to accommodate all the types of commercial construction applications. The material is suitable to fill up structural concrete voids as it is extremely lightweight yet strong.
Geofoam dries quickly and as a result of this, there are is minimal weight gain because of water absorption. Geofoam simplifies construction and design as it offers predictability in engineered values. Geofoam also helps to absorb any vibrations, impact from gravity, earthquakes, and any other natural forces. This gives engineers freedom to design a more flexible construction solution.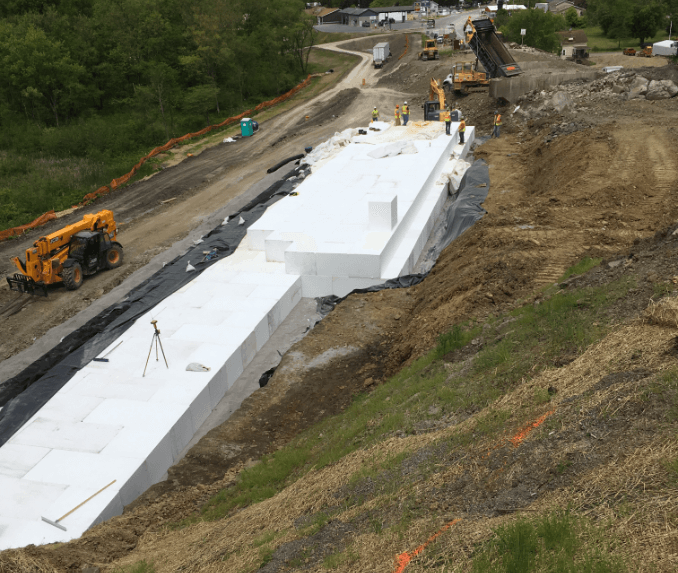 Benefits of Commercial Geofoam Products
The benefits of using geofoam in commercial applications are endless. Its ability to withstand pressure and harsh weather conditions make it an attractive material for engineers to use:
Commercial Geofoam Applications
As stated above, Geofoam is the go-to material for many buildings and foundations because of its uniqueness in physical properties. Here are some of the applications that Geofoam can do:
Because of its lightweight properties, Geofoam is often used in landscaping structures such as a roof garden. Geofoam blocks can help form the unusual geometries that comes with creating different landscapes. To prevent landslides, Geofoam can also stabilize slopes by replacing existing soil, reinforcing the structure
This is one of the most popular applications that engineers use Geofoam for. As this material can withstand immense pressure, it is perfect for insulation and foundational structures. It can act as a buffer between a wall and the earth, which help dampen the forces of the adjacent soil. Geofoam is ideal for thermal insulation as well and can reduce heating and air conditioning costs.
Bridges rely on the support that Geofoam provides. It reduces the weight on the foundation and evenly distributes the weight across the surface. Geofoam can also be used to fill voids and gaps in bridge that are not structurally sound.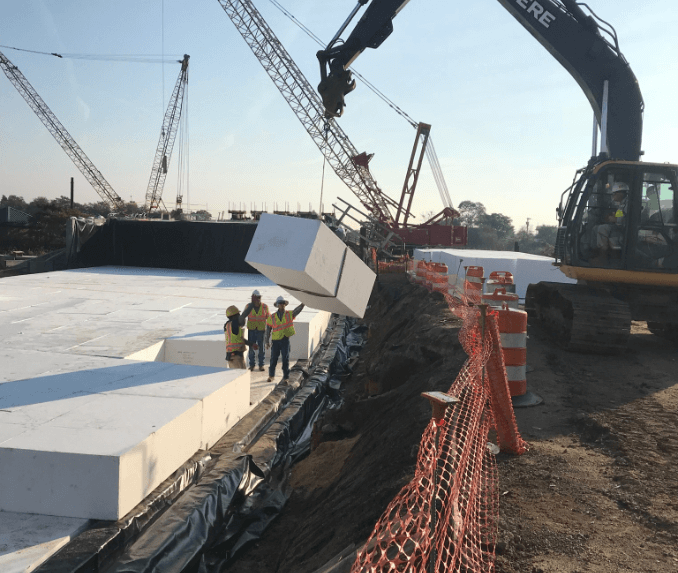 At Poly Molding, we pride ourselves to be the sole Geofoam manufacturer in New Jersey. We specialize in Geofoam for commercial construction use. We facilitate your building process in several ways.
Our team has the experience and expertise, and we guarantee that our Geofoam is of the highest quality, lasting for centuries.
Get in touch with us today