RIGID INSULATION THERMAL EFFICIENCY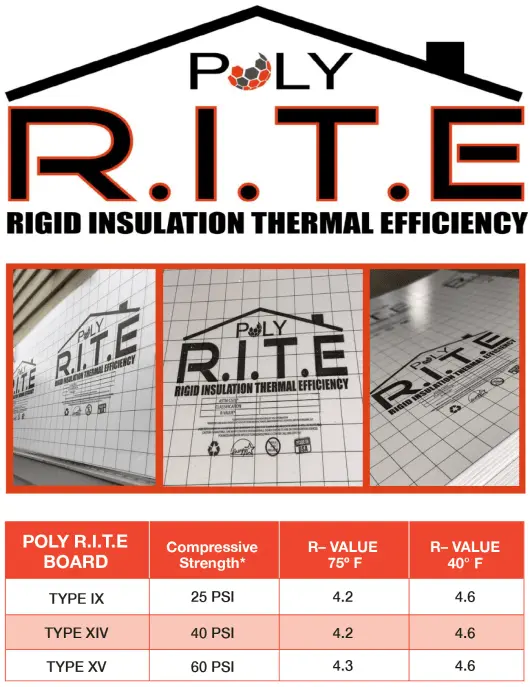 POLY R.I.T.E is a rigid cellular polystyrene thermal insulation.
POLY R.I.T.E MEETS AND EXCEEDS THE PHYSICAL PROPERTIES REQUIREMENTS OF ASTM C 578.
It is laminated with moisture resistant, laminated polymeric facers. It comes standard as a metallic reflective facer but other options include a clear laminate, grid pattern, or any combination of the two. POLY R.I.T.E can contribute towards LEED credits, and is recognized as an ENERGY STAR® insulation.
POLY RITE is 100% recyclable. It can be ground into granules and reincorporated into new Foam-Control products. Or it can be thermally processed into a resin that's used to manufacture other new products.
 This material also provides a fully stable R-value that holds steady across time without busting your budget.  Compare the cost of POLY RITE to other options and you will find it is comparably affordable.  POLY RITE dries rapidly, releasing all moisture in surprisingly little time.  Compressive strengths between 25 PSI, 40 PSI and 60 PSI are available.  Add in the fact that this material does not suffer thermal drift and you have all the more reason to use it.
Get in touch with us today