Geofoam, a product of Expanded Polystyrene Fill (EPS)
IT'S A RIGID FORM OF HIGH-PERFORMANCE STYROFOAM INSULATION.
This material is comprised of expanded polystyrene that is lightweight yet quite strong and dependable. As lightweight fill, geofoam is an ideal soil substitute used in a variety of structural applications. From green roofing to concrete slab support, flute fillers, landscaping, roads, and beyond, geofoam has numerous uses. Try out geofoam and you will understand how it is truly reliable, water-resistant, versatile, and free from harmful components.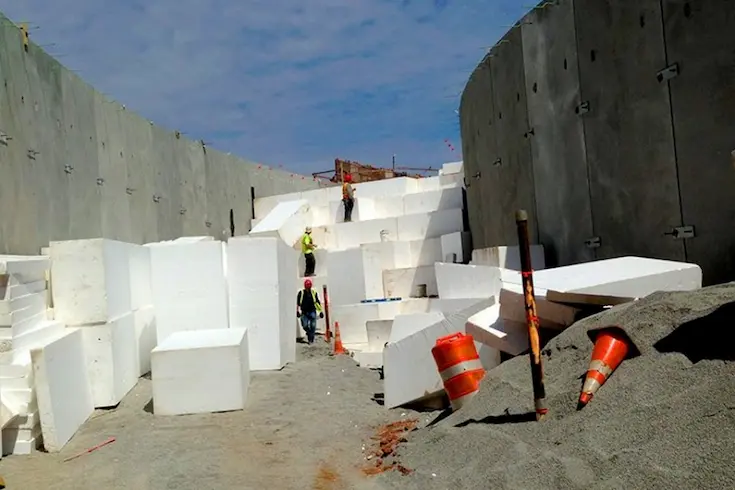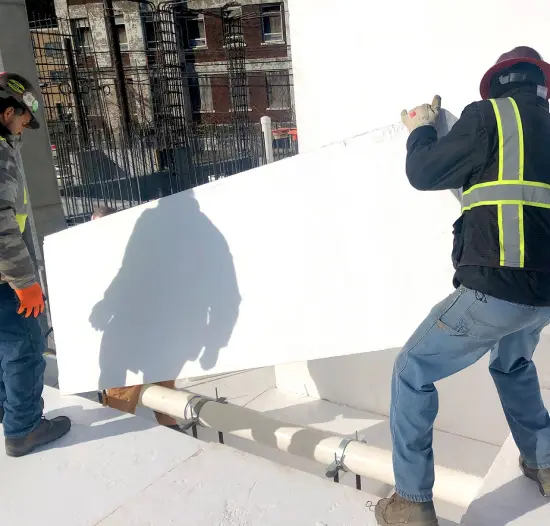 Geofoam weighs much lighter than regular soil. It is, in fact, more than 100 times lighter than the typical soil. Geofoam is also at least 30 times much lighter than the different alternatives to lightweight fill. This considerable difference in weight is a large part of the reason why geofoam is quickly growing in popularity. The lesser weight decreases settlements, bolsters stability, and minimizes the chances of slope and bearing failures.
GEOFOAM IS QUITE AFFORDABLE DESPITE ITS EXTENSIVE MERITS.
This material does not require any type of preloading or staging as is often necessary for construction applications. Furthermore, geofoam does not compromise the environment, is not laden with formaldehyde, and is completely HCFC-free. The icing on the cake is the fact that geofoam is 100% recyclable. Geofoam's comparably long life combined with its exemplary stability helps it remain whole rather than decomposing. In fact, geofoam is rugged and stable to the point that it can survive harsh weather without breaking apart. Our team even goes to the extent of testing our geofoam with regularity to ensure it exceeds the ASTM D6817 Standard Specification for Rigid Cellular Polystyrene requirement.
Geofoam helps decrease load in all sorts of applications, be it commercial, residential, or industrial.
This material is used for the construction of roads, landscaping, stabilizing slopes, retaining wall backfill, parking structures, compensating foundation, and more. Furthermore, if you need to build a ramp, levee, bridge abutment, stadium/theater seating, pipelines, culverts, or a rail embankment, geofoam will get the job done.
Geofoam is now playing an important part in green roofing. Green roofs are rapidly growing in popularity as they are chock full of vegetation that has the potential to send water down below unless a water-resistant barrier such as geofoam is in place. From homeowners to business owners, city buildings, and beyond, people and groups of all types are now recognizing the merits of green roofs with geofoam.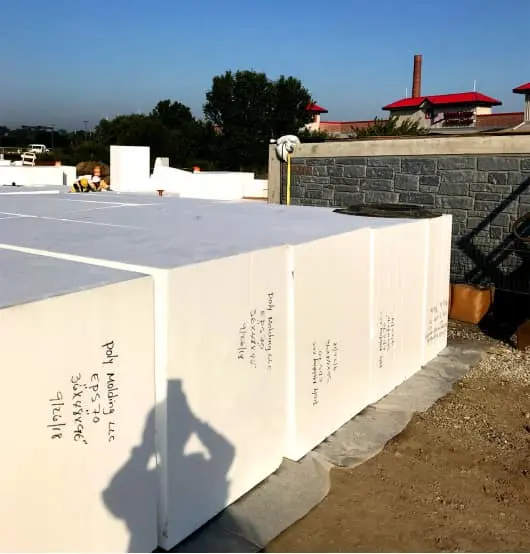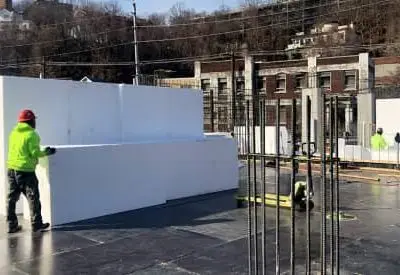 Foundations for Lightweight Structures
Innovative use of EPS geofoam is to replace traditional agricultural pile footings on peat soils.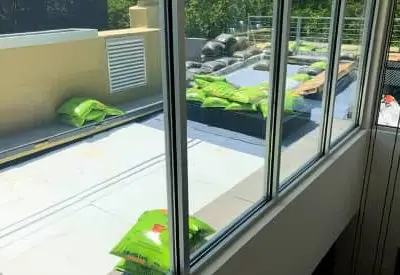 The use of green roofs refers to a fast-growing (no pun intended) trend toward environmentally friendly building processes.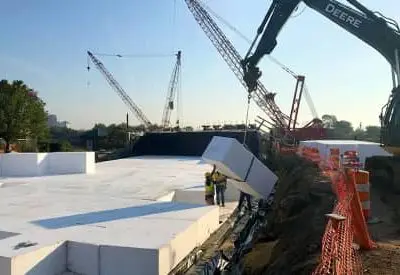 There are several advantages to using EPS geofoam to construct approach fills for bridge abutments.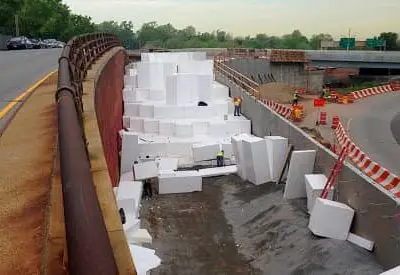 The growing need for new roads may, in many cases, require construction over soft or loose soils that are incapable of supporting additional load.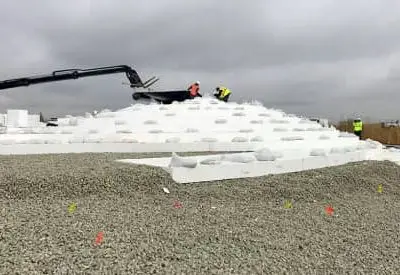 EPS geofoam can be used to create topography without adding significant load to underlying structures and services.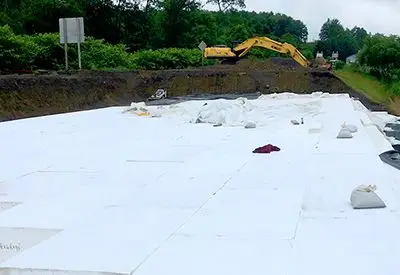 Roadways often have to be widened to reduce congestion. This situation results in additional fill being required for the roadway to be widened.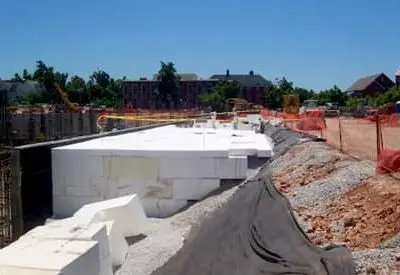 EPS geofoam can be used as backfill behind retaining and buried structures to greatly reduce lateral pressures on the structure.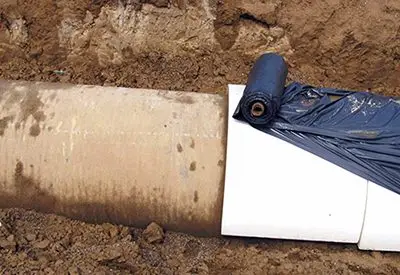 Engineering plans often call for the placement of new fill over existing underground structures that were not designed to support the increased loads.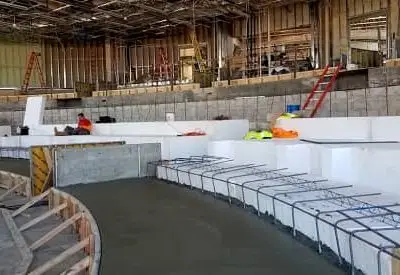 Stadium & Theater Seating
EPS geofoam can be used to form tiered seating in locations such as auditoriums, movie theaters, gymnasiums and churches.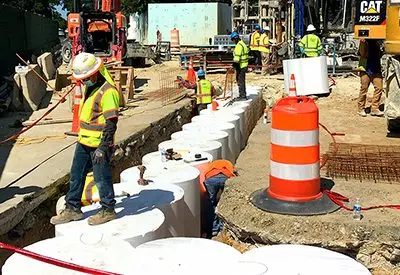 Geofoam stabilizes secant walls to safeguard subterranean structures including tanks, pipes, embankments and storage spaces.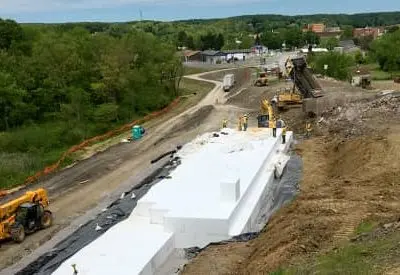 Unstable slopes can be remediated by removing a portion of the existing soil and replacing it with lightweight EPS geofoam.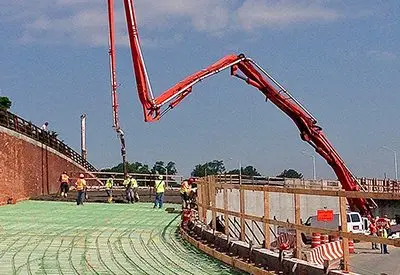 Geofoam is used to construct ramps, loading docks, and raised floor elevations that hold strong and prove reliable while supporting tens of thousands of pounds.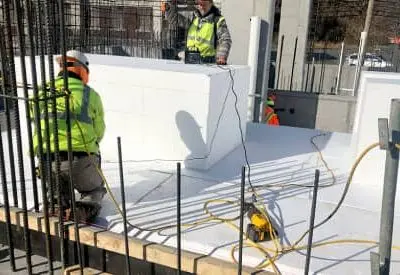 EPS geofoam can be used as a compensating foundation to reduce the load on underlying compressible soils and minimize building settlement.
Get in touch with us today