Geofoam is the lightweight, yet strong fill solution for geotechnical applications including construction on soft ground, slope stabilization, sub-grade perimeter insulation, and more. From green roofing to concrete slab support, flute fillers, landscaping, roads and beyond, geofoam has numerous uses. We are proud to offer water-resistant, reliable, safe geofoam that can be used across a wide range of structural applications for businesses and buildings in New Jersey.
The EPS Industry Alliance defines geofoam as the lightweight fill for construction on soft ground in addition to having several other uses. The material is made up of expanded polystyrene (EPS) beads and manufactured into large, lightweight blocks that vary in size. Geofoam is surprisingly strong and durable, despite its lightweight composition. Because of the ability to provide stability to unstable soil conditions, geofoam blocks can be used across a number of building and construction industries including swimming pool construction, roofs and rooftop gardens, infrastructure (including bridges, embankments, parking garages, plaza decks), underground utilities, and more.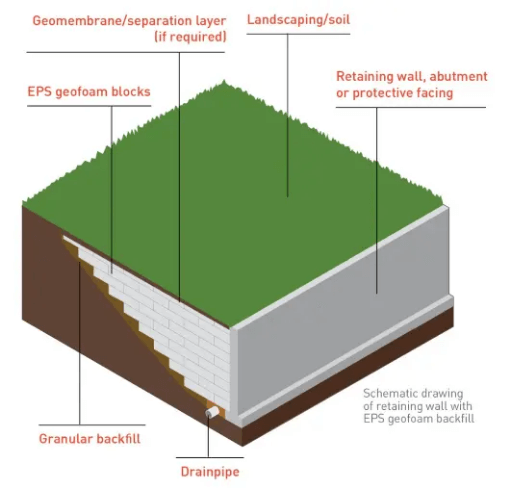 Geofoam blocks, and geofoam products are multifunctional, making them beneficial in many different ways. Just some of the benefits of geofoam include:
Geofoam is one hundred times lighter than soil and 30 times lighter than other soil alternatives. Because geofoam is lightweight, it has become extremely popular in construction sites as a soil stabilizer.
The low construction costs of geofoam make the EPS product highly sought after within the construction industry. With such a low density (blocks can range from .75 LP/CF to 3.0 P/CF), geofoam blocks require neither staging nor preloading, further reducing construction costs.
One of the most Eco-Friendly you may utilized in your construction project is EPS Geofoam.
EPS Geofoam is HCFC-free, contains zero formaldehyde, and is 100% recyclable, making it safer for the environment.
Geofoam has the capacity to withstand even the harshest of weather conditions without falling apart.
Popular Applications of Geofoam
Geofoam can be used for a wide selection of applications, including:
Geofoam is the ideal material for landscaping, parking structures, stadium & theater seating, airport runways/taxiways, and more.
Road construction and widening, bridge abutment and underfills, and rail embankments are just a few ways geofoam can be used in industrial settings.
Geofoam easily replaces conventional agriculture pile footings.
Eco-geofoam is a suitable solution for building green roofs and plaza decks.
Geofoam eliminates the need to high-density structural load to gardens, landscaping, and hardscaping.
Why Choose Poly Molding for Geofoam?
Poly Molding is the only geofoam manufacturer in the entire state of New Jersey and are an incredible local resource. We have a team of experts who provide the highest quality geofoam products used across a variety of industries and sectors. Poly Molding has an experienced team to provide guidance on geofoam to support your structure. Geofoam is eco-friendly, lightweight, and low-cost and we can help implement it into your project.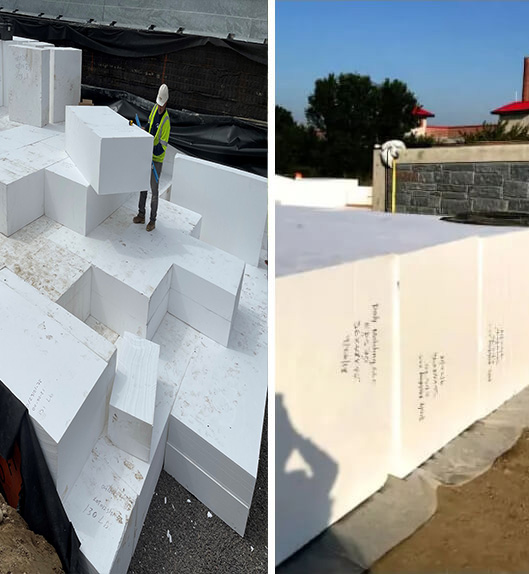 Get in touch with us today