If you were to rewind time several years, you would find the average person and even some of those who worked in the construction field did not understand geofoam and its benefits.  In fact, some did not even know this unique building material existed until recent years.  Geofoam was not used in the United States until the late 1980s so the general lack of awareness of this EPS foam material is somewhat understandable.  People are gradually learning more about this construction material as it is relied upon for use in construction projects more frequently.  Let us take a look at why EPS geofoam is quickly emerging as the construction material of choice.
Worldwide Demand for EPS Foam is Soaring
The rising demand for rigid insulation in the form of geofoam is a trend that will likely continue in the years and decades ahead.  Statistics reveal the worldwide demand for structural foam will eclipse the $1.1 billion mark within the next half-decade.  The market for this expanded polystyrene fill will enjoy a compound annual growth rate (CAGR) of nearly 8% in the years ahead, all the way up until 2025.
Why is Demand for Geofoam Spiking?
The spike in demand for this white sytrofoam is a direct result of its extensive utility in the context of construction projects.  This engineered product acts in a predictable and consistent manner.  Geofoam is uber-strong in spite of the fact that it is light in weight.  This building material has a comparably high compressive strength measuring upwards of 60 psi. 
Geofoam is also coveted as it is energy-efficient and green, helping to sustain our increasingly fragile living space.  EPS foam provides elite thermal insulation without requiring a considerable amount of time or effort to install.  This highly unique structural foam can be installed without the use of massive equipment designed to move soil and other building materials. 
Add in the fact that geofoam lasts longer than most other building materials, is uber-durable and resistant to water gives us even more of a reason to use it for construction projects of all different types.  Ask anyone who has used this form of rigid insulation for their construction projects about the timetable for completion and you will find geofoam made it easy to complete the work on time or even ahead of schedule. 
All in all, geofoam typically provides an aggregate cost savings of 30 percent per project.  However, this is only one of the many reasons why geofoam will continue to soar in popularity as a building material in the United States as well as other corners of the world.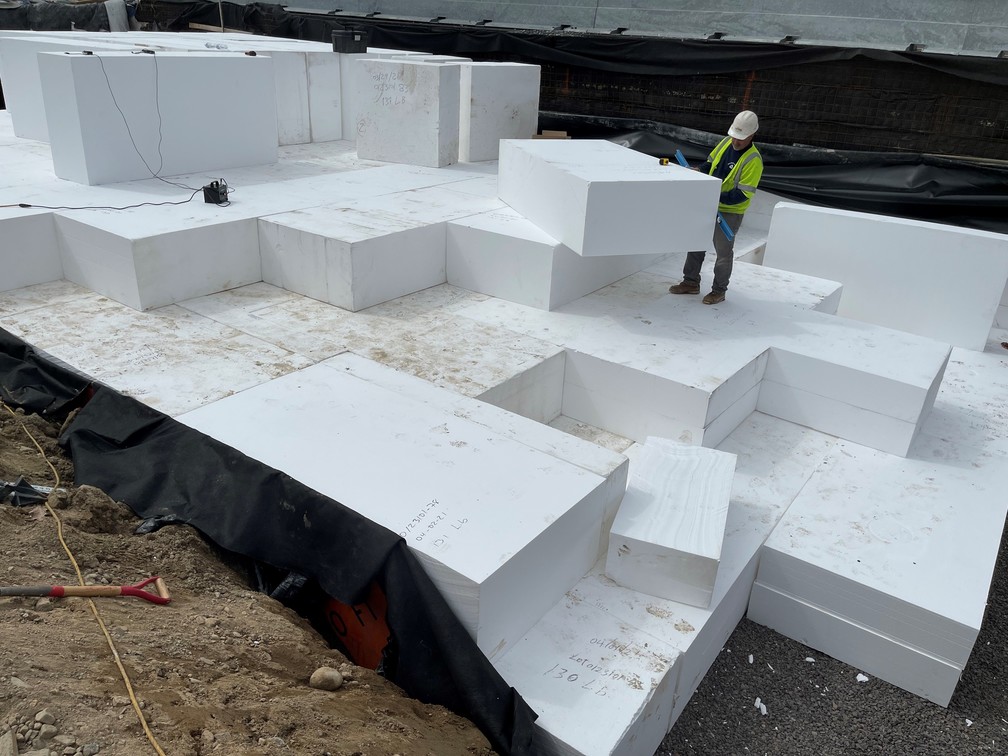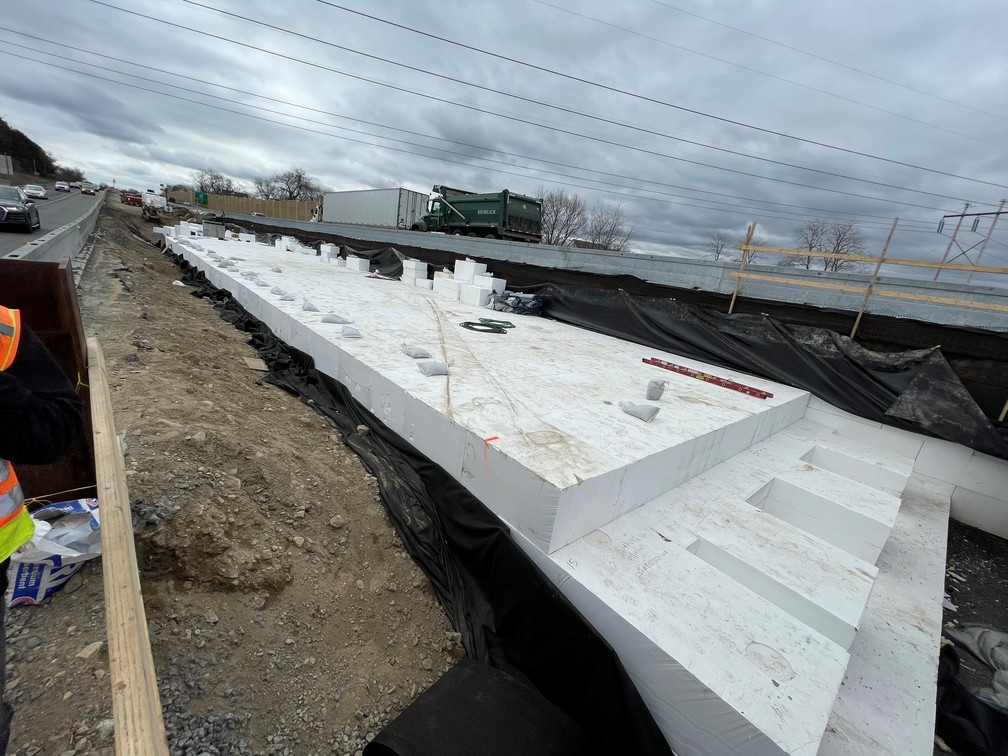 Geofoam's Popularity is Rooted in Its Widespread Utility
While most traditional building materials are restricted to use in specific projects, geofoam is comparably flexible, proving effective in construction projects of all different types.  Expanded polystyrene fill is used in everything from bridge abutments to building foundations, slope stabilization, retaining walls, insulation, stadium seating, road construction and beyond.  In fact, geofoam is even used in the construction of parks, golf courses, living roof landscaping and as fill for subterranean utilities.
The Renewed Focus on Infrastructure Bodes Well for the Future of Geofoam
The Biden administration recently announced plans for a multi-billion-dollar infrastructure spending plan.  Geofoam will undoubtedly be used in the rebuild and fortification of the country's aging infrastructure.  Geofoam will be used for the construction of both roads and highways.  This structural foam proves essential for road construction in that it fills voids, helps stabilize slopes, expands driving lanes, enhances structural support atop soil and is perfect for the construction of bridge abutments.  Add in the fact that the construction of roads is rapidly expanding across the globe, much of which will be completed with the use of geofoam, and there is even more reason to anticipate additional demand for expanded polystyrene fill. 
Industry insiders are adamant road construction and highway construction might prove to be the most profitable and expansive segment that fuels the continued growth of the EPS foam market.  It is quite possible geofoam will be underfoot in locations across the globe within the next half-decade or less, emerging as the green, affordable and reliable building material necessary to preserve our surroundings and provide superior structural integrity across posterity.