As a citizen of the greatest country in the world, my first inclination about the history of EPS Geofoam was that we Americans invented it. Not so. EPS Geofoam was first used in Norway in 1972. It seems that much of the terrain of Norway is comprised of precarious ground. In fact, the first project was a small bridge known as Flom Bridge, in Oslo. The picture below shows how soft and volatile the soil compression is. This snippet of a video produced in the 1972 project shows an engineer shifting his weight from foot to foot, and the ground beneath him is compressible clay over peat moss, not a very good situation on which to build roads.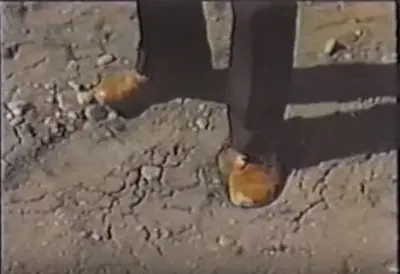 Engineers attempted to utilize Geofoam as a subsoil void filler. Geofoam is at least 10% the weight of compacted soil.
Prior to installing geofoam, this area experienced 20–30 centimeters of settlement annually causing extreme roadway damage.

Source: Wikipedia
The original thoughts on the use of large blocks of EPS Geofoam came about by stacking sheets of the material high enough to provide stability needed to withstand the harsh weather, poor soil and subsoil composition, and the rolling nature of Norway's roadways. Block production evolved and is still made in multiple thicknesses, and sizes.
One would think that engineers from the USA would have taken notice of this breakthrough in construction methods, but no. Japan's capital city, Tokyo would become the next major project recorded. Haneda Airport (Tokyo International Airport) required major runway expansion, and EPS Geofoam was ideally suited to complete the task in record time, with significant savings over the cost of soil void fill.
The first US project using EPS Geofoam was in Colorado in 1989. That's seventeen years before Geofoam was considered satisfactory for embankment support and roadbed.
To touch on how impactful Geofoam was on Japanese engineers, it's remarkable that within a two-year period, 1985 – 1987, more than 2000 projects included 46 million square feet of Geofoam. Wow!
A stretch of Highway 160 between Durango and Mancos experienced a slope destabilization, resulting in a landslide. EPS Geofoam proved itself in not only supporting and stabilizing the embankment but saved time and money. Engineers across the country are now both knowledgeable and utilizing EPS Geofoam to cut construction time and money.
Geofoam was used to create highway side slope stabilization to prevent any similar issues. The use of geofoam versus conventional restoration resulted in an 84% reduction to the total cost of the project.
Source: Colorado Hwy 160 project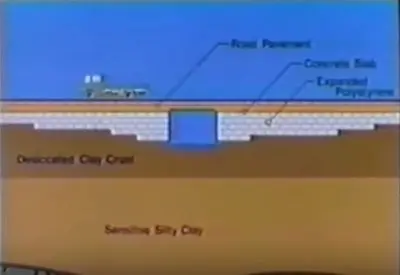 Excessive rainfall led to the embankment of Highway 260 near Durango to collapse. Additionally, in general, the winding roadways through mountain passes are fraught with freeze-thaw cycles, eventually leading to road and supporting embankment failure. The above picture is a snippet from a video explaining a Colorado project.
In our next article, we'll introduce you to the largest project using EPS Geofoam was in Salt Lake City, Utah on Highway 15. The 17 miles of government mandated road project is to date still the largest Geofoam project in the USA. The reason the government mandated the work was in preparation for the 2002 Olympics held there. Having the ability to manage a massive influx of visitors proved to be crucial to the success of the Winter Olympics of that year. Within the 2015 article, there is a link to a fascinating video of the project.
Here at Poly Molding LLC, we're proud to be able to say that we've been in business for more than 50 years serving the Tri-State area. We've been fortunate to have assisted with some of the most famous and notable projects too. Projects like One World Trade Center, the Verrazano Bridge, Raritan Bay Medical Center, the home of the Mets, Citi Field, and so many others have included our company in their respective construction projects.
If you've got a project on the drawing board and you need 3rd generation dependability, unmatched deliverability and just plain ability to provide an ASTM certified product, give us a call now.